WorkSafe prosecution in childcare centre dead tree collapse case
Health and Safety /
26 September 2019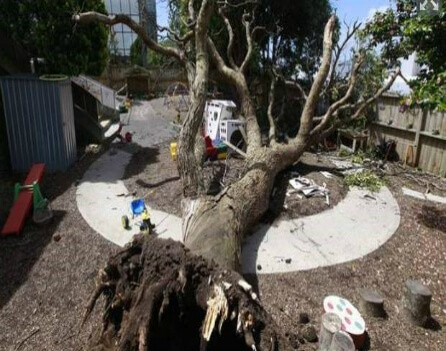 Late last year a tree collapsed at the Discoveries Educare Limited (Discoveries Educare) early learning centre in Auckland.  Both the centre and the land owner both failed to identify that the tree, which had been dead for a year, posed a risk to health and safety.  A large cracking noise was heard as the tree fell to the ground while children and adults were in the outdoor area, injuring four children and one adult.
Case Details
Heng Tong Investment Limited (Heng Tong) leased the land and buildings to Discoveries Educare.  Heng Tong and Discoveries Educare were both charged, Heng Tong for failing to ensure no one was put at risk from its work, namely property leasing, and Discoveries Educare for failing to ensure the safety of both workers and others (ie children attending the centre) in the workplace.
The Court held that the risk that a dead tree posed was obvious, and both failed to identify this.  Discoveries Educare had noticed the leaves had stopped falling from the tree, and identified that the branches may pose a risk if not maintained, however it did not contemplate the entire tree collapsing.  About the centre, WorkSafe commented "If they don't have the in-house expertise to identify obvious risks and their controls, they should engage someone who does."
Heng Tong was fined $89,200 and Discoveries Educare was fined $172,000.
Message for employers
This case serves as a lesson to ensure regular visits, assessments and inspections to property including identifying and monitoring key risks to land and fixtures. Information about these risks should be provided by landlords to lessees.
A wealth of information on risk management for early childcare centres is available on the Ministry of Education website, including a recommended daily hazard checklist.  All businesses should also regularly inspect their workplaces to ensure new risks are identified and current existing risks are monitored, consulting experts to assist with this where needed.  We can help with advice and assistance on what to do to manage risks including who is best placed to assist – contact our team for information.
Disclaimer: We remind you that while this article provides commentary on employment law and health and safety topics, it should not be used as a substitute for legal or professional advice for specific situations. Please seek legal advice from your lawyer for any questions specific to your workplace.
Back to News and Publications